Home Boarding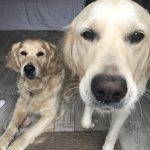 Home boarding has become very popular with dog owners in the UK.  Owners not knowing where to leave their dog(s) when going on away or on holiday are in a very difficult position; who to leave them with – that's where we come in.
When choosing us you will know you're leaving your dog(s) with a qualified dog handler.  We are fully insured, licensed with Basildon council, DBS checked, qualified in pet first aid and experienced when it comes to caring for your pets.
The reason home boarding is so popular with us is because your dog will get special one-to-one care when staying here.  They have regular walks, feeding and cuddles; just like being at home.
This service is an alternative to the industrial style kennels that most owners wish to avoid, the reason our services cost a little bit more then a kennel would is because we welcome your dog into our home, just like we do with our own. Your dog(s) can lounge on our sofas, eat in company and have plentiful daily walks all whilst being warm and cosy in their own bed under constant supervision.
We are located in Basildon, Essex so serve the entire area.
Key points
Friendly and personal service
No confined spaces
Unbeatable prices
One-to-one attention and care for your animal
Caring, loving family environment
No separation anxiety that dogs can experience within a kennel
Individual needs catered for, such as medications and bespoke care for an injured dog
Socialisation with other dogs
Prices
January 2018 onwards:
For one dog £25, 2 dogs £45, 3 dogs £70, 4 dogs £90 and 5 dogs £115.
If you are a regular walk with us (3 times or more per week) your dog will now charged at £22 a night otherwise you will have to pay the above prices.
Stipulations
We only board medium sized dogs with an exception for bigger dogs as long as very well behaved, also we will not accept ANY dogs with aggression issues, marking territory or destructive behaviour when left alone for a short period of time.  Please ensure that your dog is vaccinated, health checked, spayed/neutered and have had their prevention spray against kennel cough. Proof of this will be asked for upon your meet and greet with us. Sadly, we cannot accept puppies under a year old.
Before we book your dog in for home boarding, we always ask to meet first to ensure your dog has a good temperament with humans and other dogs. Other dogs are usually present when your dog(s) come to stay with us, so you must first agree that they are okay to be around different household dogs and you will need to sign to agree to do so.
****PLEASE ENQUIRE FOR ANY BANK HOLIDAY DATES AS PRICES ARE CHARGED AT A HIGHER RATE ON THESE DAYS****